Bhatt & Joshi Associates, is a lawyer firm in Ahmedabad, Gujarat. At our firm we have a set of skilled, experienced, professional Civil lawyers (Legal Experts) to the matter of civil nature. We have lawyers having in-depth knowledge of all Substantive Law like Contract Law, Specific Relief Act, Land Revenue Act, and the Civil procedures and knowledge of Statutory Interpretation with strong logical, analytical and persuasive abilities adept at pleadings, drafting of Suit, Agreements, Contracts, vetting of Documents. Additionally money recovery, recovery disputes, suits related to children, wards, guardianships, estate, property, custody, execution, claims, partitions and various petitions etc."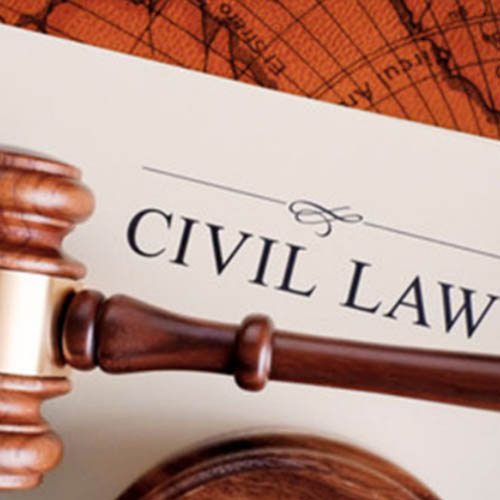 At Bhatt & Joshi Associates our Civil Lawyers provide comprehensive legal assistance to the clients under litigation of Civil Laws of India. We not only represent our clients in a legal proceeding but also provide most appropriate consultation and advisory services to the client. The job involves presenting cases before judges, negotiating settlements of legal disputes, investigating the facts. At the high court level, we do the filing of First Appeals, Second Appeal and Appeal from Order to represent and protect the interests of our clients.
Type of Civil Cases Bhatt & Joshi Associates Deal with?
In order to provide best Civil Lawyer Services, at High Court, Supreme Court, Commercial Courts, Arbitration Tribunal, Civil Courts, SSRD, GRT, Consumer Commission we at the Law office of Bhatt & Joshi Associates, follow a detailed protocol of fact collection, research, interaction and iteration with the clients at various stages and thereby aim to provide experience of best Civil Lawyer at High Court of Gujarat and the Local Courts in Ahmedabad; By following the legal processes in a strategic manner, we aim to provide Professional Civil Lawyer services to our clients. Here is some of civil litigation service our best civil lawyer in Ahmedabad, Gujarat provides:
Property Litigation Matters

Land Revenue Matters before SSRD, GRT and High Court 

Land Acquisition Litigation before High Court

Unknown Transaction Matters (Benami transaction)

First Appeal, Second Appeal and Appeal from Order before High Court

Matters related to Foreigners Act 

Matters related to Passport Act before Appellate Tribunal and High Court

Societies and Co-Operative Societies Matters

Petitions under child & wards act & guardianship act.

Petition related to election disputes before High Court and Supreme Court;

Accident Claims before MACT and Appeals before High Court

Suit For Recovery of Debts Due to financial institutions before DRTs.

Writ Petitions before High Court and Supreme Court under Service Laws,

Petitions before CAT under Service Laws,

Writ Petitions before SEBI / FERA / MRTP board/tribunals etc;

Writs petitions before High Courts and Supreme Courts;

Review Petition, Revision, Appeal, Special leave to Appeal etc.

Consumer Protection Law – State Consumer Commission 

Any other suits and petitions permissible by Code of Civil Procedure, 1908.

Suit for partition of movable or immovable properties in Ahmedabad, Gujarat.

Suit for permanent/mandatory/temporary injunctions

Suit for declaration;

Suit for recovery of money, estate, property (Movable or immovable), debts, dues etc.

Easements Litigation Matters

Contractual Dispute Litigation- Suit for specific performances of contracts or agreements before Commercial Courts and Arbitration Tribunal

Successions and Trusts Matters

Petition for custody of children, wards, appointments of guardians etc.

Petition for obtaining probate/letter of administration / succession certificate;
Apart from Civil Litigation Services, do you provide drafting and consulting services? 
At Bhatt & Joshi Associates, we strive to provide the best Civil Law related Services. We provide the services related to drafting and vetting of all kinds of documents such as Contracts, Agreements, Employment Agreement, NDA, MOUs, Software Development Agreements, Title Deeds, framing of Society Bye-Laws and Rules, Wills, Banking Agreement etc. We have vast experience in representing our clients before Courts and Commissions for all kinds of work. 
What should you search for in your Civil Lawyers? 
Combination of Experienced Lawyers and Young Lawyers

: A Firm having the team of energetic, dynamic young blood with a combination of most experienced, specialist Civil Lawyers.

Fact collection

: Sometimes there are more than one conceivable arrangements or parcel of points of reference to help the argument. Thus, a Civil Lawyer ought to have that ability to assess every one of the potential outcomes before presenting the same.

Research:

Good legitimate research abilities are required to look into important case laws, points of reference, corrections to help the contentions.

Representation:

It is most important for a Civil lawyer to deeply understand facts and most aptly represent them before presiding Judge. It must be understood that any important evidence missed out at the stage of trial, affects the case at every stage of appeal.

Detailed Knowledge of Diverse Areas of Law:

It is equally important that your civil lawyer has a grip over diverse areas of Law. Many times there are multiple remedies may be available and it will be upto your civil lawyer, who will decide the most appropriate remedy in the given facts and circumstances of your case.