Pharmaceutical Industry in India – Regulatory Framework
Navigating India's Pharmaceutical Industry 
The pharmaceutical industry stands as one of India's pillars, renowned as a global leader in generic drug manufacturing and export. However, the intricate web of regulations mandates that companies remain diligent in compliance. Bhatt & Joshi Associates is here to simplify this journey, offering bespoke legal solutions for pharmaceutical giants, ensuring seamless operations amidst complex regulations.
Key Regulations Influencing the Pharmaceutical Domain
The Drugs & Cosmetics Act, 1940

: Serving as a foundation, this act supervises drug import, manufacture, distribution, and sale, incorporating dual regulatory oversight from both central and state governance.

The Pharmacy Act, 1948:

A guiding principle for the pharmacy profession, this act emphasizes the necessary education and training for pharmacists in India.

The Drugs and Magic Remedies (Objectionable Advertisement) Act, 1954:

An essential guideline, it keeps a check on the advertising world, especially those promoting remedies claiming magical properties.

The Narcotic Drugs and Psychotropic Substances Act, 1985

: A critical regulation that manages and controls narcotics and psychotropic substance-related operations. Read about commercial quantity of drugs under NDPS act
With India's burgeoning demand for cost-effective, high-quality medications, the pharmaceutical sector's growth seems inexorable. Yet, its dense regulatory environment makes legal counsel indispensable.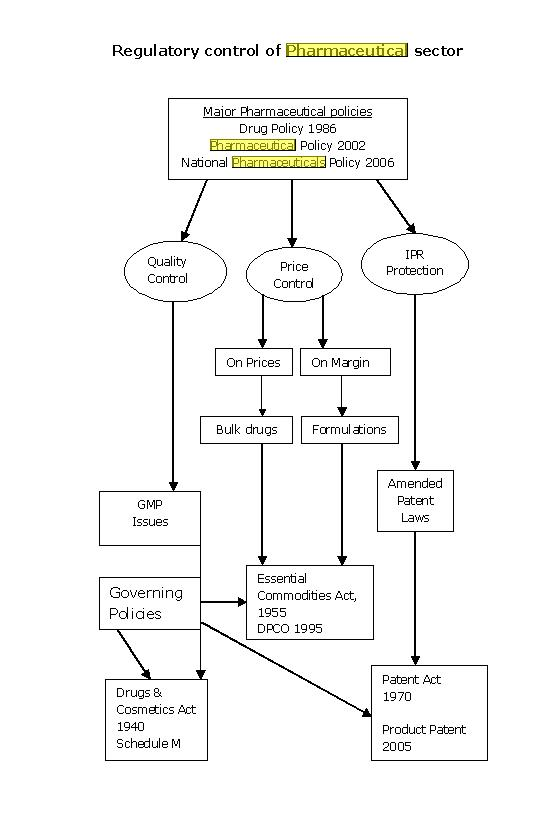 Spotlight on Regulatory Authorities
Central Drugs Standard Control Organization (CDSCO)

: This apex body, under the Ministry of Health & Family Welfare, is the sentinel for drug safety, efficacy, and quality in India, taking charge of new drug approvals, clinical trials, and quality control.

Drug Controller General of India (DCGI)

: As CDSCO's spearhead, DCGI controls drug import, manufacture, and sales in India, while also coordinating with state-level drug authorities to reinforce the Drugs and Cosmetics Act, 1940.

National Pharmaceutical Pricing Authority (NPPA):

With an emphasis on affordability, NPPA governs drug pricing, ensuring adherence to the Drugs (Price Control) Order, 1995, among others.

State Drug Regulatory Authorities

: Present in each state, these bodies, under CDSCO's umbrella, manage drug production, sales, and distribution, adhering strictly to the Drugs and Cosmetics Act, 1940.
Final Thoughts
Navigating India's pharmaceutical sector requires adept understanding and vigilance given its vast regulatory milieu. Bhatt & Joshi Associates stands as a beacon for firms in the sector, offering unparalleled legal expertise – from regulatory guidance, contract formation, risk management, to litigation support – ensuring unwavering compliance and industry success.
"Equal justice under law is not merely a caption on the facade of the Supreme Court building, it is perhaps the most inspiring ideal of our society." – Lewis F. Powell Jr.
Read more on Gujarat High Court