Creating a Valid Will under the Indian Succession Act?
A Will is a document that ensures that the distribution of property and assets is carried out according to the wishes of the holder (testator) after his/her death. The absence of a Will is likely to put the testator's family in a predicament about determining valid ownership. Despite this, the trend of framing a Will is yet to catch up in India. To learn more about framing and registering a legal Will in India, read on.
Legal Formalities of a Will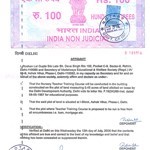 There is no set form of a Will in India and it can be written in any language, as long as the words are coherent and explain the intentions of the testator clearly.
Besides, a will does not require a stamp duty and need not be written on a stamp paper. The following formalities need to be catered to for a Will to be effective:
Attestation: A Will must be duly signed by two witnesses in the presence of the testator as well as each other. Note that the rules regarding attestation vary under each religious law. For instance, under Islamic law the testator need not get the Will attested as long as it is in writing.
Registration: The process of registering a Will entails getting the document attested by an officer at a registration office. The officer, after examining the identity of the testator, places the Will in safe custody to ensure that it is not tampered with, destroyed or stolen. In India, registration of Will is not mandatory, even if it concerns an immovable property.
Regardless of whether a Will is registered, it must be duly executed under the Indian Succession Act.
Legal Revocation and Amendment of a Will
A Will may be revoked or altered by a testator at any time, provided s/he is competent to take the decision. A Will may be revoked or amended by either:
Executing a new Will
Registering a new Will (if the previous Will is registered)
Destroying the old Will
Making a codicil or appendix in the existing Will
Additionally, a Will should be initialed by the testator at the bottom of each page and adjacent to any corrections or alterations.