Glimpse of NDPS Act 1985
Glimpse of NDPS Act 1985
Introduction
The legislative regulation over narcotic drugs was earlier being exercised under The opium Act 1852, The opium Act 1878 and the Hazardous Drugs Act 1930. Owing to the passage of time and changes in the field of illegal drug trafficking and substance addiction at national and international level, the provisions of these enactments were found to be insufficient.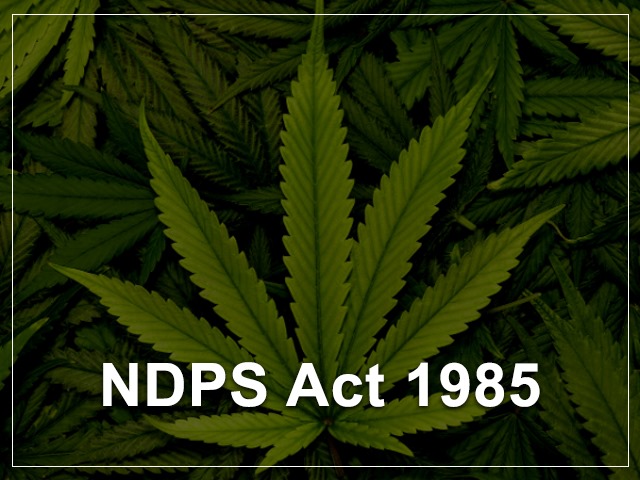 Purpose behind this Act
The punishment under the previous acts was not deterrent enough to meet the challenges of well-organized smuggling gangs. The 1930 Dangerous Drugs Act allows for up to 3 years imprisonment with or without fine and 4 years imprisonment with or without fine for recurring offences.
However, no mandatory penalty was imposed in the past existing rules, as a result of which drug dealers have been let off by nominal punishment. Over the last few years, the nation has been increasingly faced with the issue of drug transit traffic coming mainly from some of our neighboring countries and heading mainly to Western countries.
Past Existing Central laws did not provide for investing the officers of a variety of major Central Compliance agencies, such as Drugs, Customs, Central Excise, etc., with the power to investigate offenses under the said rules.
Since the aforementioned three Core Acts were passed, a large body of narcotics-controlled international law has evolved through numerous international treaties and protocols. The Government of India has been a party to entail treaties and conventions that include numerous commitments that are not protected or only partly covered by the preceding acts.
In view of all the above limitations, need of comprehensive legislation for the regulation of narcotic drugs and psychotropic substances was felt and demanded that penalties for trafficking in particular should be significantly increased, confiscation of properties originating from or used in illegal drug and psychotropic drug trafficking should be ensured, stringent provisions should be made for effective regulation of psychotropic substances and provisions should be made for the enforcement of international conventions on narcotic drugs and psychotropic substances.
As a consequence, the bill was passed in the parliament and therefore the Narcotic Drugs and Psychotropic Substances Act 1985 was enforced.
A comprehensive legislation was necessary to reform and update previous laws relating to narcotic drugs. Accordingly, the parliament adopted the Narcotic Drugs and Psychotropic Substances Bill. It was passed in Lok Sabha on 23rd august 1985 and was enacted on 14th November 1985. The act has been amended 3 times till now in 1988, 2001 and 2014.
The term 'narcotic' in the legal sense is quite different from that used in the medical context which denotes a sleep inducing agent. 
Legally, a narcotic drug could be an opiate (a true narcotic), cannabis (a non-narcotic) or cocaine (the very antithesis of a narcotic, since it is a stimulant).
The term 'psychotropic substance' denotes mind-altering drugs such as  Lysergic Acid Diethylamide (LSD), Phencyclidine, Amphetamines, Barbiturates, Methaqualone, and designer drugs (MDMA, DMT, etc.). 
Classification of Drugs.
Cannabis 
Section 2 of the NDPS ACT, explains cannabis (hemp) and is defined as: 
Charas – a separated resin, in whatever form, whether crude or purified; obtained from the cannabis plant, which also includes the concentrated preparation and resin known as hashish oil or liquid hashish; 
Ganja – the flowering or fruiting tops of the cannabis plant, (excluding the seeds and leaves when not accompanied by the tops), by whatever name they may be known or designated; and 
any mixture, with or without any natural material, of any of the above forms of cannabis or any drink prepared therefrom; for example – Bhang. 
'Cannabis plant' 
means any plant of the genus Cannabis.
Narcotic Drugs
means coca leaf, cannabis (hemp), opium poppy straw and including all manufactured drugs;
Manufactured Drugs 
Means all coca derivatives, medicinal cannabis, opium derivatives and poppy straw concentrate;
any other narcotic substance or preparation which the Central Government may, having regard to the available information as to its nature, or to a decision, if any, under any International Convention, by notification in the Official Gazette declare to be manufactured drug;
'Coca'
'Coca derivative' means
Crude cocaine, that is, any extract of coca leaf which can be used, directly or indirectly, for the manufacture of coca, Ecgonine and all the derivatives of ecgonine from which it can be recovered. Cocaine, that is, methyl ester of benzoyl-ecgonine and its salts. All preparations contained more than 0.1 percent of cocaine.
'Coca Leaf'
means:
The leaf of the coca plant except for a leaf from which all ecgonine, cocaine  and any other ecgonine alkaloids have been removed.
Any mixture thereof with or without any neutral material, but does not include any preparation containing not more than 0.1 per cent of cocaine. 
'Coca Plant'
means the plant of any species of the genus Erythroxylon.
'Opium' 
means:
The coagulated juice of the opium poppy, or simply, Any mixture, with or without any neutral material, of the coagulated juice of the opium poppy, but does not include any  preparation  containing  not  more than 0.2 per cent of morphine.
'Opium derivative' 
means:
Medicinal opium, that is, opium which has undergone  the processes necessary to adapt for medicinal use in accordance with the requirements of the Indian Pharmacopoeia or any other Pharmacopoeia notified in this behalf  by  the  central government, whether in powdered form or granulated or otherwise or mixed with neutral materials.
Prepared opium, that is, any product of opium obtained by any series of operations designed to transform opium into an extract suitable for smoking and the dross or other residue remaining after opium is smoked.
'Opium poppy' 
means:
The plant of the species Papaver somniferum L.
The plant of any other species of Papaver from which opium or any phenanthrene alkaloid can be extracted and which  the  Central  Government  may, by notification in the official gazette, declare to be opium poppy for the purposes of this Act.
'Poppy straw' 
means: 
all parts (except the seeds) of the opium poppy after harvesting whether in their original form or cut, crushed or powdered and whether or not juice has been extracted there from.
Salient features of the Act
 It is applicable to the whole of India, to all the Indians outside India and to all persons on ships and aircrafts registered in India.
An addict means a person is highly dependent on any narcotic drug or psychotropic substances.
cannabis (hemp) means ganja, that is cannabis plant flowering or fruiting tops without seeds and leaves when not accompanied by the tops, under whatever name they may be known or designated.
Even though in certain sections of the Act the term Central Government Factories is mentioned, it has not been defined in the Act until now. It is proposed to define Central Government Factories within the definition of Government Company under the Companies Act, so as to allow the Central Government the flexibility to restructure Government Opium.
The central government under the act is authorized to take necessary steps to prevent and counter substance addiction and illegal trafficking.
According to the act, The Central government is also authorized to constitute an advisory committee called 
Section 15 to 20 of the act deals with penalties for the offences under the act.
Punishment is given for any breach of provision in relation to poppy straw, coca plant, coca leaves, prepared opium, opium poppy, cannabis plant and cannabis, manufactured drugs, psychotropic substances etc.
Punishment is also given for illegal import into India or export from India, for violation of orders made under the act, for illegal possession of narcotic drugs or psychotropic substances in small quantities and so on.
Offences under this act shall be cognizable means clearly identifiable and non bailable means serious offences.
Author: Mohit Mathur
Editor: Adv. Aditya Bhatt & Adv. Chandni Joshi